Circular Economy
States General of the Green Economy: Burgo Group among Italian best practices
The States General of the Green Economy met at Ecomondo, Fiera di Rimini, on 7 and 8 November 2023.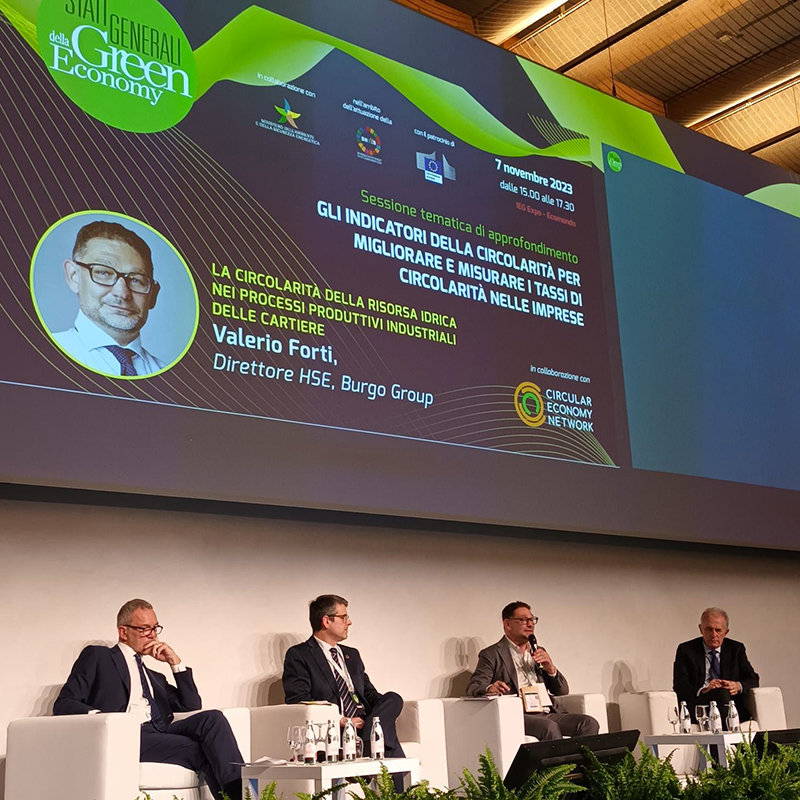 Circularity indicators to improve and measure circular business rates: this was the title of the in-depth thematic session that took place on Tuesday 7 November at the States General of Green Economy, part of the Ecomondo programme at Rimini Fiera.
Valerio Forti, HSE Director of Burgo Group and one of the speakers at the session, talked about the Group's experience, which stands as an example of good practice in terms of circularity of water resources in industrial paper mill production processes.
Circularity, Waste and Water Recycling
Burgo Group has undertaken a strategy that includes multiple interventions to increase the recovery of process waste and to reduce its water consumption.
Find out more
The criticality of water and its circularity
Mr. Forti spoke about the criticality of water as an element for paper production in diverse aspects: it functions as a binder for the fibres, as well as being necessary for transport and cleaning, as a solvent, an energy vector (in the form of steam) and a useful tool in some cooling processes.
An efficient and sustainable use of water resources is therefore crucial. This is why paper mills have been working for years to reduce water exploitation and waste, promoting water recycling and reuse practices within the production process.
To assess the effectiveness of these practices, the UNI/TS 11820 standard was recently introduced, which includes 71 circular economy indicators and applies to all resources. In particular, the "Energy and water resources" section of these indicators offers specific guidance on how best to measure and manage water use with a view to industrial symbiosis.
Burgo Group's commitment (and some figures)
Burgo Group is well aware that the paper industry has a central role to play in promoting efficient and sustainable use of water: therefore, the Group plans to evaluate the applicability of new indicators, in addition to those envisaged by UNI/TS 11820, to effectively promote the circularity of water.
In recent decades, fellow European paper mills have drastically reduced their freshwater withdrawal: -20% on total volume and -47% when calculated as a specific value of m3 per tonne of product (source: CEPI).
As far as Burgo Group is concerned, Mr. Forti recalled how the water involved in paper production in the Group's mills is largely employed, rather than consumed: over 90% of the water withdrawn by the Group – 82284 million litres in 2022 – for paper production is returned to the environment.
States General 2023: watch the circularity session video
Go to page