Burgo Containerboard (BCB) is the production center entirely dedicated to paper for packaging, with a full range of high performance papers.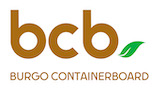 Avezzano's high performance papers offer a wide choice of products for all customers and markets.
The plants meet high innovative technological requirements for obtaining packaging paper of high and consistent quality.
The goal is to make packaging paper for every need and standard. A wide choice, with a range of different weights and diversified production processes, with raw materials suitable for every type of use.
The values that inspire BCB naturally include respect for the environment, with a completely eco-sustainable product range.
Its competitive advantage is the support offered by the reliability of a Group that is one of the main European paper producers.
Products to support the circular economy
Burgo Containerboard uses secondary fibres, i.e. waste paper from sorted collection, packaging recovery and processing waste. Papers are used for corrugated cardboard packaging solutions; once they have served their function, if sent for recycling, they can be reused as a raw material.
The final product of the supply chain, the cardboard box, is a natural form of recyclable and renewable packaging: paper comes back to life as new packaging, thanks to a virtuous and inexhaustible cycle.
Burgo Group is associated with: