Commercial structure
The markets served by the Group
The Burgo Group's main markets are the Italian and European markets with a presence also on overseas markets. Overall, the Group sells its products in more than 90 countries.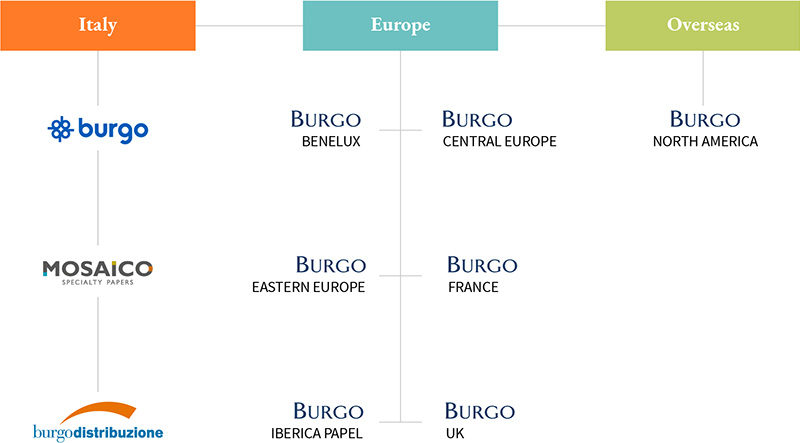 Italy
The Italian publishing and graphic paper market is managed through two sales channels, the first, which has a direct relationship with the main Italian customers, printers and publishers, the second through Burgo Distribuzione which, with its network of commercial offices and warehouses, can supply all customers (medium and small) with the Group's products and with complementary products which Burgo Distribuzione purchases and resells. The use of these two commercial channels means that the Group can reach out to all Italian customers.
Mosaico is present on the Italian market through its direct sales network which is also composed of agents specialized in the flexible packaging sector and through the Group's distribution channel (Burgo Distribuzione).
The containerboard market is mainly served through direct relationships with converting customers.
Europe
The European market is managed through the Group's commercial branches: Burgo Benelux, Burgo Central Europe, Burgo Eastern Europe, Burgo France, Burgo Iberica Papel and Burgo UK.
The international commercial structure permits a strong introduction to the main European printers and publishers and, for the distribution of coated sheet papers, the Group is a partner of the main continental distributors through specific supply agreements for each individual market. The Group is a European leader for coated woodfree paper in reels or sheets and in coated mechanical paper for graphic and publishing use.
In anticipation of the increase in its containerboard production capacity, Burgo has established relationships with the main supply chain partners so that it can also introduce the products to the European market.
Mosaico manages the European market through the Group's commercial branches, making use of a widespread network of specialised agents and experts in the various categories of products.
Overseas
On overseas markets, the Group uses multiple sales channels including the Burgo North America branch, traders, agents, and direct customer relationships.
Given Mosaico's major commitment to developing the export of technical products, the overseas market is managed not only through the company's commercial department, but also through a branch of agents, experts in different sectors and in an ongoing liaison with the product development team.