Beautiful and sustainable ecological paper
Burgo Reborn: the Made in Italy and Blue Angel certified recycled coated paper is born (and reborn)
The beauty of sustainability is to discover that value adds to value. When sustainability increases quality, it's a true win-win for everyone: the grand champion is Reborn, the new recycled coated paper by Burgo, obtained not just from recycled fibres, but exclusively post-consumer recycled fibres. A system that adds value to the entire life cycle of paper.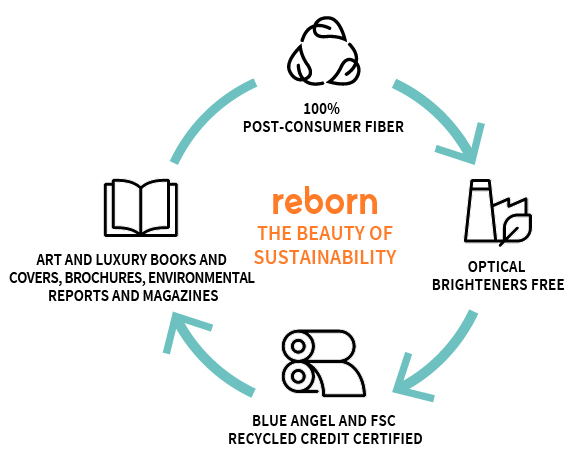 Post-consumer fibre comes from paper already placed on the market, where the correct disposal and consequent reuse grant a second life to the material.
Reborn is a highly sustainable product also because the manufacturing process does not involve the use of optical bleachers.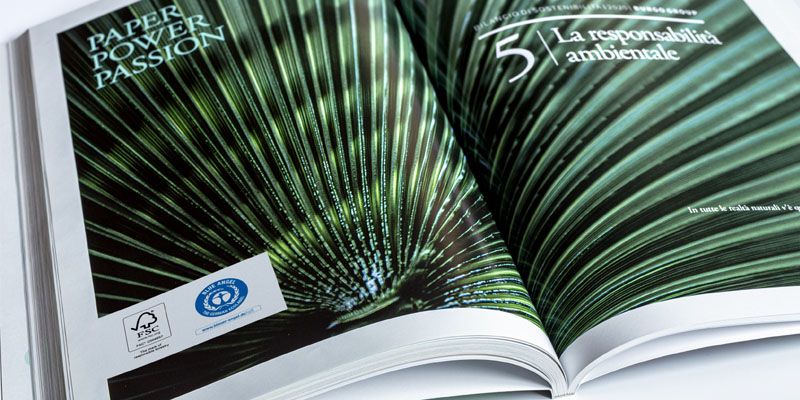 Reborn's sustainability is guaranteed by its certifications: Burgo's recycled coated paper is FSC Recycled Credit certified (FSC®-C004657), guaranteeing a fully traceable and responsibly managed supply chain every step of the way. Furthermore, Reborn is the first Made in Italy coated paper that has been certified by Blue Angel, the European label promoted by the German federal government, increasingly requested by the main paper buyers. Blue Angel certifies only the products that meet strict environmental requirements throughout their life cycle – a further guarantee on the quality of Reborn.
We can completely forget the prejudices about recycled paper: Reborn ensures impeccable colour rendering, with a clear and defined image reproduction in every detail. A resistant and performing paper, with a high printability and excellent opacity even in its low substances. In a nutshell, Reborn is the high-quality recycled paper (and we remember: made only with post-consumer fibres!) with the added value of sustainability.
Reborn
Coated paper BLUE ANGEL and FSC Recycled Credit certified
Find out more
Certifications of the Burgo Group
Search and download the Group's international certifications.
Find out more