Back to the future
The futuristic former Burgo headquarters becomes the stage for the new design furniture on Living
The design creations shown in the June issue of the prestigious Living magazine, a monthly publication of Corriere della Sera, were photographed in an exceptional location: the futuristic settings of the "flying saucer", the building designed by Oscar Niemeyer for Cartiere Burgo in the late Seventies.
Known as "the spaceship of San Mauro Torinese" for its particular shape, the futuristic structure that housed the administrative and executive offices of the Cartiere Burgo between 1977-1981 is one of the four works designed by the architect Brazilian Oscar Niemeyer in Italy. This building represents an important piece of history for Burgo Group while carrying a great architectural significance that has had a remarkable opportunity to shine, once again.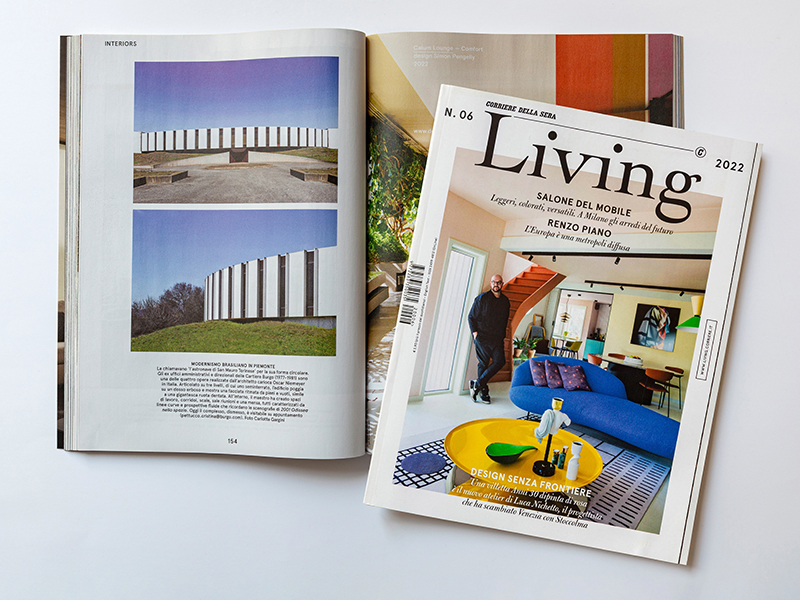 The peculiar circular frame, externally distinguished by full and empty spaces creating hypnotic light tricks, stands out like a giant gear wheel on the surrounding green landscape. And if the exterior still enchants today with its futuristic design, the interior is certainly no less mesmerizing: Niemeyer has created workspaces, corridors, staircases, meeting rooms, and a canteen, all characterised by curved lines and fluid perspectives that are almost reminiscent of a science fiction film set.
The allure and originality of these settings have inspired Living, the prestigious magazine dedicated to the world of design and lifestyle, to choose them as an exceptional location for the photo shoot of striking new products from the leading brands of the made-in-Italy design furniture. The shots by Beppe Brancato show the new design furniture set in the interior spaces of the "spaceship " and, alongside the shoots of the exteriors by Carlotta Gargini, were published in the June issue of the magazine, which has been devoted to the excellence of Italian design, following the special occasion of the 60th edition of the Salone del Mobile in Milan.
The inside pages of the Living issue are printed on Uno Web Maxi 1.3 paper in 51 g/m2: a paper made with precious raw materials and ideal for publication thanks to the excellent ratio between brightness and opacity and the excellent evenness of the surface, which guarantees high tensile strength and fast ink drying.