Burgo Talks
Burgo Talks: a glimpse into the world of Burgo Group
Burgo Talks is the English-language magazine recently published by Burgo Group: a new medium for the Company to share ideas and updates on the trending topics of the paper industry.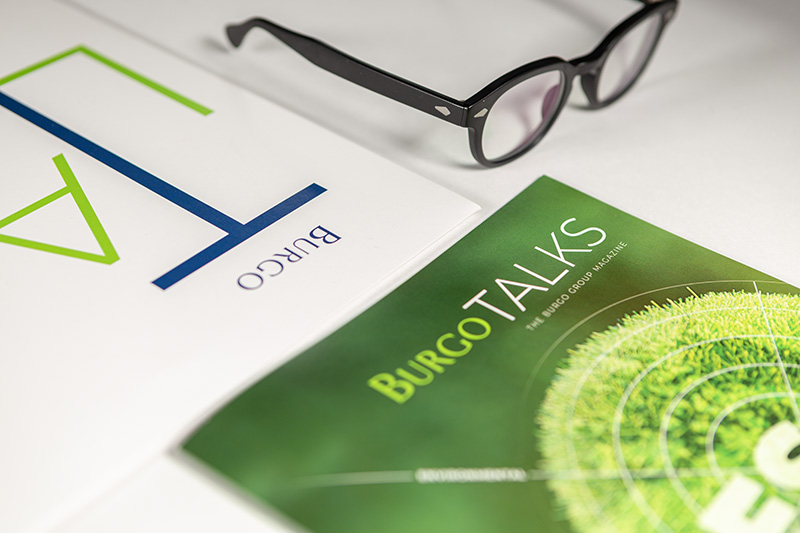 Issue zero of Burgo Talks was published in mid-September: the magazine offers a privileged glimpse into the Burgo Group corporation and on the topics of significant interest in the world of paper production, involving and informing the Group's customers and stakeholders at an international level.
Burgo Talks, the first issue
The first issue of the magazine opens with an editorial by CEO Ignazio Capuano and with a cover dedicated to the ESG topic, which the first article (signed by Valerio Forti, HSE Director of the Group) develops further. The focus of the first issue of the magazine underlines the development direction in which Burgo Group will proceed in the upcoming years, in line with the ESG criteria; such direction is described in detail by the project GO2030: GROWING SUSTAINABLY.
The articles and insights in Burgo Talks are written by internal collaborators and by partners of the Group: in this issue, for example, we find a comparison between the sustainability of reusable packaging and single-use packaging written by Ian Bates, European Marketing & Partnership Director of Two Sides UK, and an article about marketing in the digital age by Ulbe Jelluma, Managing Director of Print Power Europe.
Choosing Sustainable Communication
The papers used for the printing of Burgo Talks were selected according to high quality and sustainability criteria, in line with the Group's approach.
The pages of the magazine are printed on 150 g/m2 Reborn paper. Reborn is a coated paper made only with post-consumer recycled fibres and without optical brighteners, FSC Recycled Credit certified, and the first made in Italy coated paper that is Blue Angel certified. Resistant, high-performance, and high printability, Reborn offers excellent opacity even in the lightest substances.
Reborn
Coated paper BLUE ANGEL and FSC Recycled Credit certified
Find out more
The cover of Burgo Talks is printed on Respecta 100 in 250 g/m2, a wood-free coated paper with a satin finish, FSC Recycled Credit certified, and made entirely with pre and post-consumer recycled fibres. A sustainable product of the highest quality, Respecta 100 ensures a high level of whiteness and excellent chromatic performance in all substances.
Respecta 100
High printability coated paper FSC Recycled Credit certified
Find out more
Last but not least, the envelope that contains Burgo Talks is made of Formapack New, a single-layer, 270 g/m2 folding paperboard. Double-coated on one side, Formapack New guarantees high printing performance and stiffness, resulting in a high level of print quality.