Together, wholeheartedly
Burgo Group gives its steadfast support to the Bambini Cardiopatici nel Mondo non-profit organization
A company is more than production: it is a way of contributing to a larger system that embraces the whole of society. According to this global perspective, Burgo Group sponsors the Bambini Cardiopatici nel Mondo association, which operates to give a better life expectancy to children with heart disease in poor and developing countries.
Burgo Group regards sustainability and social responsibility as a corporate core in all processes, thus inherently also in partnerships. Aware of the value of the transmission of culture and its impact, in terms of opportunities and externalities, Burgo Group undertakes to support initiatives that offer a positive contribution to the development of society and people.
To encourage and support the initiatives and activities of non-profit organisations with common values and objectives, since 2014 the Burgo Group has been funding the Bambini Cardiopatici nel Mondo (children with heart disease around the world) association, which through medical missions abroad, training for doctors and construction of specialised centres for paediatric heart surgery aims to aid the development of local health systems and reduce the infant mortality rate due to heart disease.

Founded in 1993, the association Bambini Cardiopatici nel Mondo - A.I.C.I. Onlus is a non-profit, laic, and independent organization which, thanks to the volunteer surgeons, doctors, nurses, and technicians from the most important Italian and foreign cardiac surgery centres, operates in countries where the health system is inadequate to assist children with heart disease.
"Every saved child is a smile that's been gifted to humankind"
Professor Alessandro Frigiola
The vocation of Bambini Cardiopatici nel Mondo
Over 6 million children in the world are living with congenital heart disease. In the West, thanks to early diagnosis, highly specialised doctors, and modern instruments, the lives of young patients can be saved: operations are successful in 97% of cases and 85% of children reach adulthood.
However, in countries with economic difficulties or developing countries, the situation is very different.
Due to extreme poverty, a shortage of specialised doctors, and inadequate equipment, children with heart disease have very little chance of surviving. Every year in these countries about 2 million children are born with heart disease, of which 1,500,000 do not reach adulthood.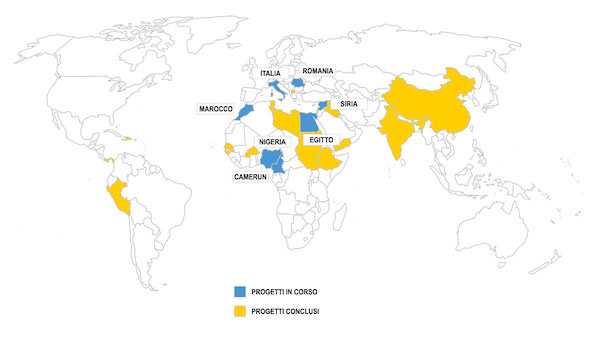 Founded in 1993 in Milan by Professor Alessandro Frigiola (Director of Pediatric and Adult Congenital Cardiac Surgery at the Policlinico San Donato in Milan) and Professor Silvia Cirri (Head of Anesthesia and Intensive Care Services at the Sant' Ambrogio Institute of Milan), the Bambini Cardiopatici nel Mondo - A.I.C.I. Onlus was created to assist children in disadvantaged areas. Since its beginning, the association has contributed with:
475 medical missions, carried out by specialised medical teams in 27 countries
20,400 diagnoses, because every early diagnosis is critical to save a life
4,317 life-saving operations carried out during missions
339 scholarships awarded to train heart surgeons and other health personnel in developing countries
3 paediatric surgery centres and 1 training centre

Through the valuable work of volunteers and donations, the association works for a world in which every child with heart disease can have access to the best specialist medical care without any geographical, religious, ethnic, or political discrimination.
Visit the website of Bambini Cardiopatici nel Mondo – A.I.C.I Onlus
Go to page
Le mani nel cuore
Le mani nel cuore recounts, through straightforward images and vibrant words, the story of a doctor who has made the treatment of congenital heart disease in children his raison d'être: Professor Alessandro Frigiola, founder and President of the association.
Between 2015 and 2016 the photographer, journalist, and war correspondent Giovanni Porzio followed the medical missions of Professor Frigiola, who opened the doors of the operating theatres. The remarkable volume collects the testimony of over two years of work in 100 outstanding photographs, which are the result of a journey with the association in five countries: Syria, Kurdistan, Egypt, Cameroon, and Senegal.
The result is a full coverage of the work of volunteers in places where the lack of facilities required for cardiac surgery, the deficiency of training, or severe war situations make it tragically difficult to guarantee even the minimum paediatric care: a testament to life and hope in five very different countries, united by difficulties, but above all by the smiles of children.
The book Le mani nel cuore can be purchased by the association through a donation. For information, please write an email to comunicazione@bambinicardiopatici.it
Merry Christmas, from our hearts to yours
We can try to imagine a world in which children with heart disease can have hope, a world in which even those born in a poor or struggling country can have access to the best treatments if they need them: our wish is that every little choice we make can be a step towards a more supportive and fairer world – for everyone.