The Burgo collection
1997-2020. The Burgo picture calendar collection
It was flight that stood out more than twenty years ago in the paper wings that Folon created for the Group as part of its venture into calendars entrusted to the talent of celebrated illustrators. This project was the brain child of Aldo Marchi, developed over the following years by his sons Girolamo and Alberto, and acquiring a strong, unique, international identity.
The decision to entrust the calendar to a different illustrator each year has allowed the Burgo Group to host interpretations that address the theme of paper in a wholly free and varied manner. Paper in our dreams, in our lives. Paper expresses beauty, expectation, play: paper for books, origami paper, letter paper, design paper.
We will now present the history of this Collection, looking back at some of the images created by the artists and introducing them with the words that Robert Newman wrote in May 2017, on the occasion of an exhibition at the Palladian Basilica of Vicenza dedicated to the Burgo Collection. Some years have passed since that exhibition and other artists have joined the collection: Noma Bar, Emiliano Ponzi and Manuele Fior.
This is the golden age of illustration. Right now. Not the 1920s. Not the 1940s. Not even the 1960s, although I grew up in that decade and the illustrators of that time were the most important in the development of my vision. The time is now. At the turn of the century we witnessed a vibrant artistic movement of extraordinary quality. Great creativity and enthusiasm, and a feeling of unlimited potential. Never in my experience have I seen so many illustrators work at such a creative level and I don't remember there ever being such great enthusiasm for the art of illustration.
Do you need any proof of this? Look at this collection of images created for the Burgo Group's calendar, an annual graphic delight that has been repeated since 1997. Every year since then the Burgo Group has published a calendar showcasing the best of talented illustrators from Europe and the United States. The artists are assigned a simple mission: to tell the story of paper, about its many uses and about how people interact with it, particularly in connection with writing.
This collection of over a hundred images is the result of that project; a celebration of over twenty scintillating years of graphics. The results are intelligent, elegant and beautifully executed. This is one of the most magnificent collections of illustrated work that you could ever have the pleasure and joy of admiring. The talent represented here has as its creators illustrators whose careers date back to the 1950s and others who are working today. However, whether they are works created by legends like Folon or by new young stars like Shout, the thread of creativity and splendour unites them all.
Evidently, this collection is dominated by artists who were born and work in Italy, and many others who have moved to Italy from their homelands or have strong creative connections. Every exhibition starring Emanuele Luzzati, Lorenzo Mattotti, Altan, Roberto Perini, Giorgio Maria Griffa, Tullio Pericoli, Cecco Mariniello, Alessandro Sanna, Luca Caimmi and Shout can only serve to strengthen the leading role of Italian art and design (especially in Milan). But then there are the Americans (Paul Davis and Milton Glaser), the French (Folon, who comes from Belgium, and Moebius and Loustal) and the two Argentinians, Negrin and Muñoz (although both moved to Milan to continue their work). Then there is Ping Zhu from Brooklyn, the first female illustrator in the Burgo collection.
Enjoy this wonderful, exciting collection of illustrations, the best from the past two decades. These images have already brought great joy and an opportunity for contemplation to many people and I hope that they will have the same effect on those seeing them for the first time. Thirty years from now, when my daughter Ivy (who is now a teenager, but already knows she wants to be an art director) writes the essay for the Collection's 50th anniversary, it is very likely that she will say the same thing about her own era. Because, to tell the truth, the present always seems to be the golden age of illustration.
1997 / Jean-Michel Folon
Known simply as Folon, this Belgian-born illustrator lived and worked in Paris and later in Munich (he died in 2005). He was an editorial illustrator, for American magazines in particular, and created well-known posters for Greenpeace and Amnesty International, as well as numerous book covers. In 1990 Folon was honoured with an exhibition at the Metropolitan Museum of Art in New York. Author Ray Bradbury wrote in the catalogue for that exhibition: "Some have intimated that he is merely an illustrator. Merely! As if illustration were mere!"
For the 1997 Burgo calendar Folon created an original image and contributed to a series of existing illustrations, all beautiful and surreal, simple as images, but powerful in their visual narrative.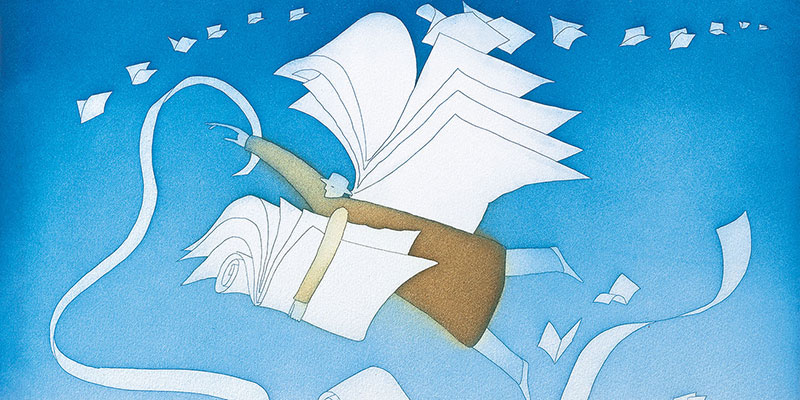 2000 / Emanuele Luzzati
This Italian painter, director (two Oscar nominations for short films), animator, set designer and illustrator, created majestic imaginative images. "To visit an exhibition of Luzzati's work... was like entering a fairyland park", wrote The Guardian in its 2007 obituary.
For the 2000 Burgo calendar Luzzati brought imaginary characters from children's stories to life, with bright graphic collages and mixed materials.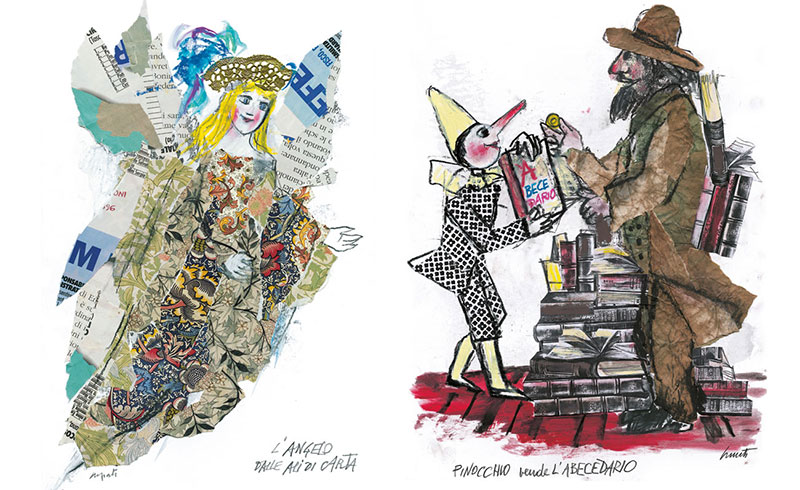 2001 / Milton Glaser
Art director, poster designer, illustrator, printer, interior designer, brand creator... Glaser changed the face of graphic design with his iconic work in New York City. As the founding art director of New Yorkmagazine, he also changed the face of publishing. "I'm so excited to do something that didn't exist before," Glaser told The New York Times. "It's like magic."
For Burgo's 2001 calendar Glaser selected a series of posters that he had designed and illustrated for various cultural events in New York City and for institutions, including the Lincoln Center, the Metropolitan Opera and the Juilliard School of Music. He also created a sculpture from stylish, elegant paper that he cut and illustrated from the pages of a book.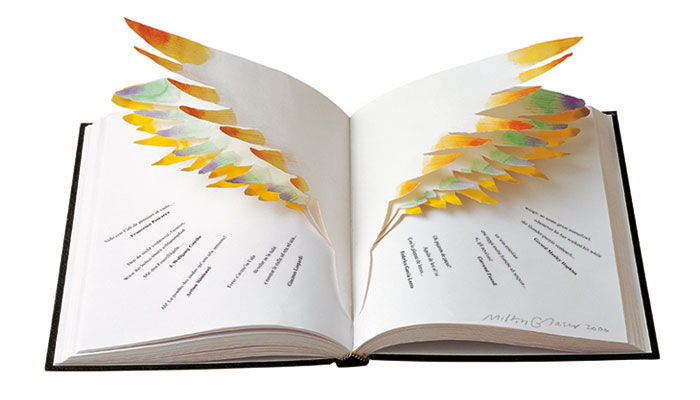 2002 / Emanuele Luzzati
For his second published work in Burgo's 2002 calendar Luzzati produced a series of collages using pieces of mixed materials, documenting the history of paper and writing, beginning with the ancient Egyptians. The collages are dynamic and bold, but also very poetic, calling to mind a comment by The Guardian which praised his "magical and mysterious visual territories".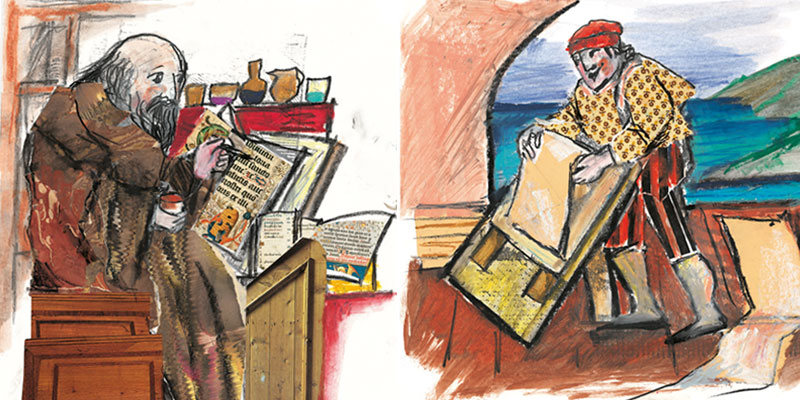 2003 / Lorenzo Mattotti
Described as "the great Italian architect of dreams" by well-known comic book publisher and writer Paul Gravett, Mattotti made his mark in comics, children's books, posters, paintings, fashion drawings and editorial illustrations, including illustrious covers for The New Yorker. He is cool enough to have collaborated with Lou Reed on a remake of Edgar Allen Poe's The Raven.
For Burgo's 2003 calendar Mattotti created beautiful studies of couples reading... while skating, walking, dancing and flirting. The eye (not to mention the head and the heart) marvels at the grace, colour and textures of these illustrations.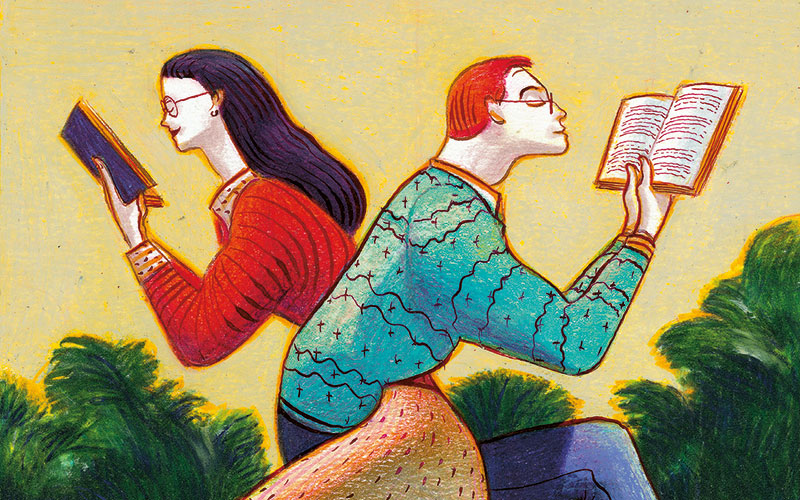 2004 / Altan
The Milanese Francesco Tullio Altan has been described as "one of the most incisive poison pens that Italy has ever known". In addition to his many books, children's books, short cartoons and comics, Altan is a ruthless political satirist. His work has been animated for Italian TV; with the Pimpa the puppy in particular.
For Burgo's 2004 calendar Altan painted and drew a brilliant, lively series of women reading, writing and creating with paper.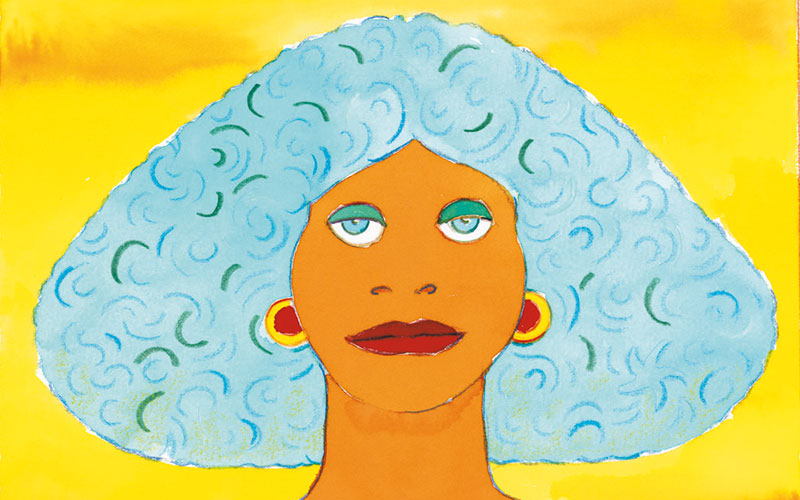 2005 / Roberto Perini
Born in Italy, this newspaper cartoonist, illustrator, book cover designer and set designer has divided his time between Cuba and Rome. In 1986 he co-founded the anti-futurist movement Frou-frou with Roland Topor.
For Burgo's 2006 calendar Perini's soft, surreal watercolours, depicting penguins, salmon, whales and other animals, imagine their interaction with paper and text.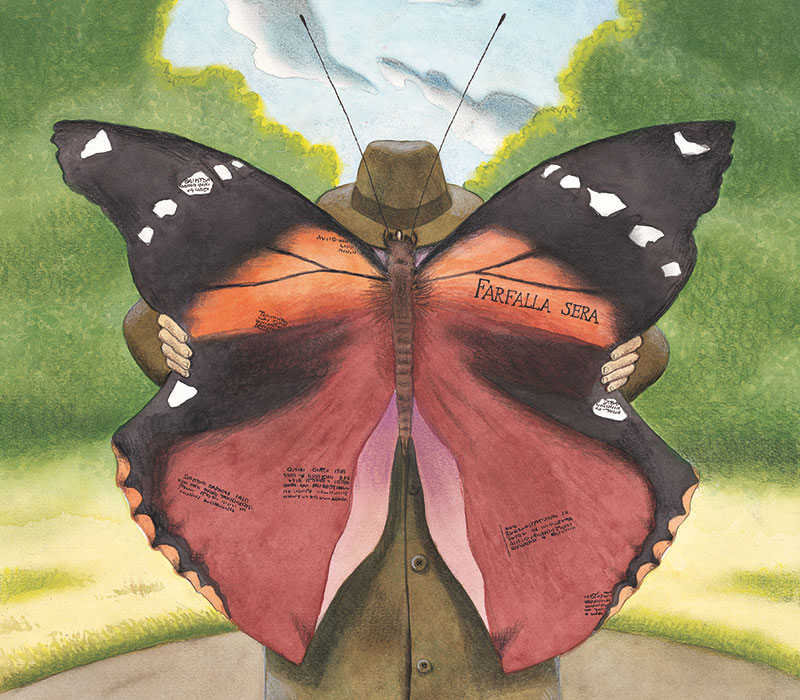 2006 / Paul Davis
Davis is a legend among American illustrators and art directors for his extraordinary book symbols and music album covers, editorial illustrations and theatre posters. He has collaborated with Milton Glaser and his team at Push Pin Studios, and continues to make his mark both as an illustrator and as a designer. Steven Heller said that Davis "brought a fresh new American look to illustration" and the Art Directors Club says that he "paved the way for a whole generation of illustrators." His work is part of the visual fabric of New York City, so much so that Kurt Vonnegut described Davis as "the face of the city at its best".
For the 2006 Burgo calendar Davis painted a glorious set of images in the form of a collage using bits of paper and text: words that descend from a waterfall, that are dragged away from a lighthouse, that wrap around a road through trees and, what has the greatest impact for me, that descend like snow above the wonderful top of a mountain.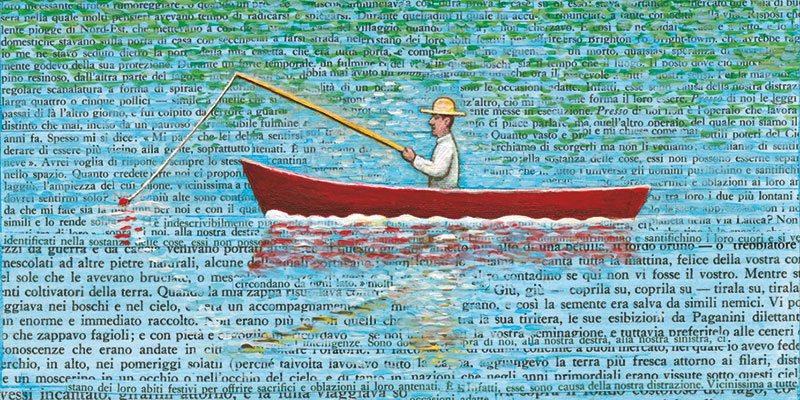 2007 / Moebius
French cartoonist Jean Giraud, also known as Moebius, has been one of the most influential comic book artists of recent times. His cinematic approach to cartoons has transformed the field and his impact can be detected in many science fiction films in which he has contributed to the screenplays, including Alien and The Fifth Element. Director Federico Fellini said that Moebius "has the ability to transport us to unknown worlds".
For Burgo's 2007 calendar Moebius created a series of six images that make up an entire story without words, with multiple levels of meaning. These pieces are beautifully designed and executed. Not surprisingly, Moebius once said: "A precise line, beautifully executed, is like an orgasm." Let us just say that, if this is true, he must have had a lot of fun creating these illustrations!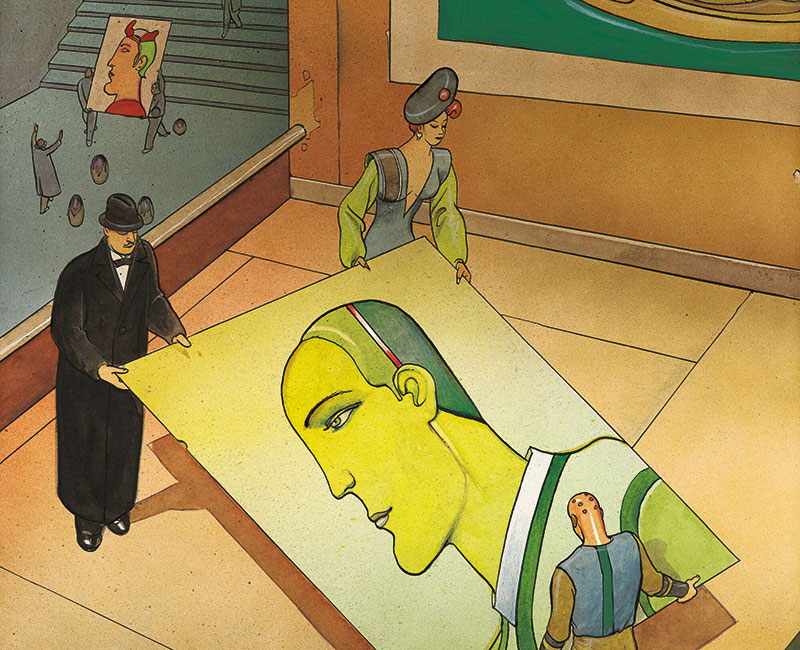 2008 / Giorgio Maria Griffa
This Italian painter and illustrator creates complex mixtures of watercolours and collage.
For Burgo's 2008 calendar Griffa created a magical collection of torn paper, postcards, old luggage stickers and used travel documents to create a wonderful and mysterious story about travelling to distant lands.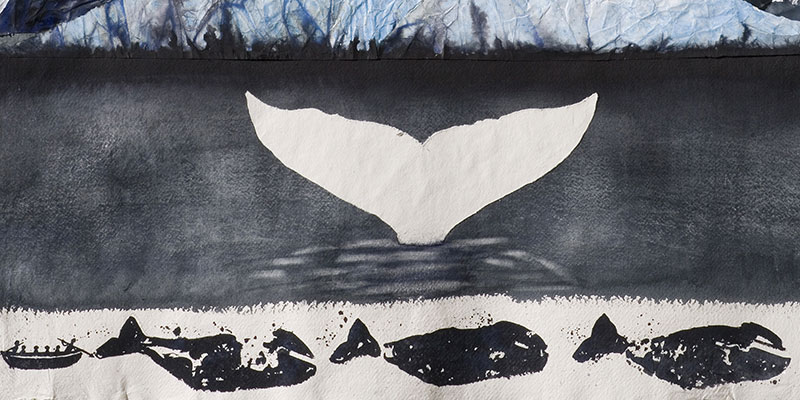 2009 / José Muňoz
Muñoz is a comic book artist who, with the collaboration of Carlos Sampayo, created the character Alack Sinner, a New York detective. Born and raised in Argentina, he moved first to Spain and then to Milan. Muñoz is famous for his incisive works of art in black and white; his style has been described by graphic artist Oscar Zarate in the following words: "Every visual element, even the smallest, is an important character fighting to be heard".
For Burgo's 2009 calendar Muñoz worked with the concept of writing, building enchanting poetic, almost abstract, pieces of colour that tell a quiet story.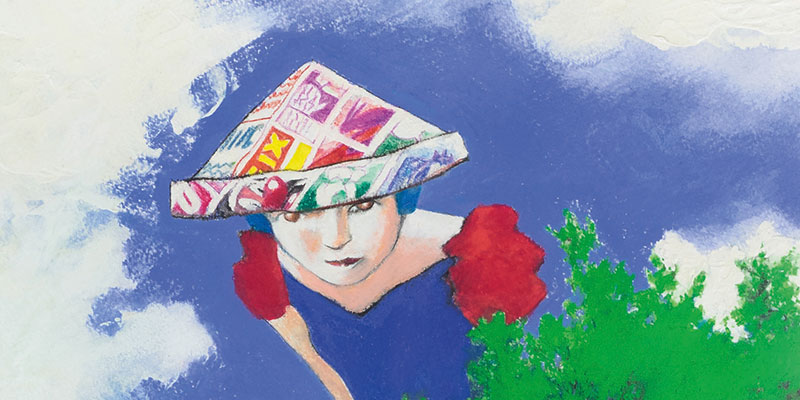 2010 / Jacques de Loustal
This French artist has produced a vast number of comics, editorial illustrations, storytelling graphics and numerous books about his travel sketches. He has also appeared on several memorable New Yorker magazine covers. "An illustration is better if it has the logo of The New Yorker on it," he explained to the art director of the newspaper cover, Francoise Mouly.
For Burgo's 2010 calendar six of Loustal's images follow the painter through the creative process. Fashionable, colourful and fascinating, his work was described by a critic as "full of a taste for silent characters and evocative landscapes"; any of these would make a great New Yorker cover!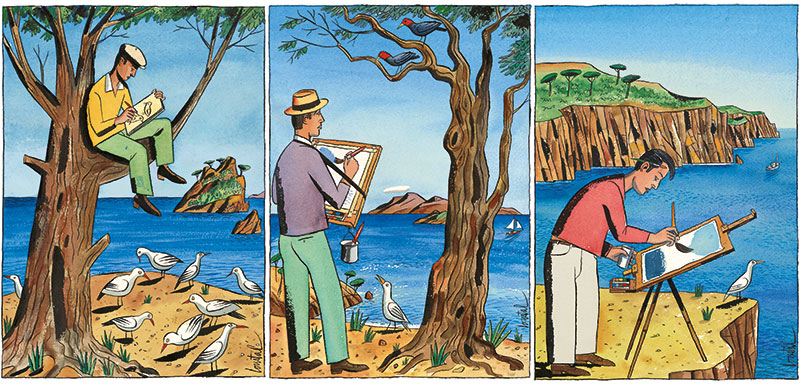 2011 / Tullio Pericoli
Based in Milan the painter and illustrator Pericoli has also designed costumes and sets and created many illustrated books for children. He is known for his numerous portraits, especially of authors. "Pericoli teaches us that behind every stroke of the pen or brush, there are thousands of stories," says Professor Simona Corso of University of Rome III. He "opens the doors of his art and invites the curious viewer to walk among the lines of his paintings".
For Burgo's 2011 calendar Pericoli's delicate, sweet dreams are quiet and soft when compared to pieces from a few years earlier. But don't be fooled by their accompanying theme of tranquillity; these are powerful, impactful illustrations, rich and layered, with countless places to look and explore.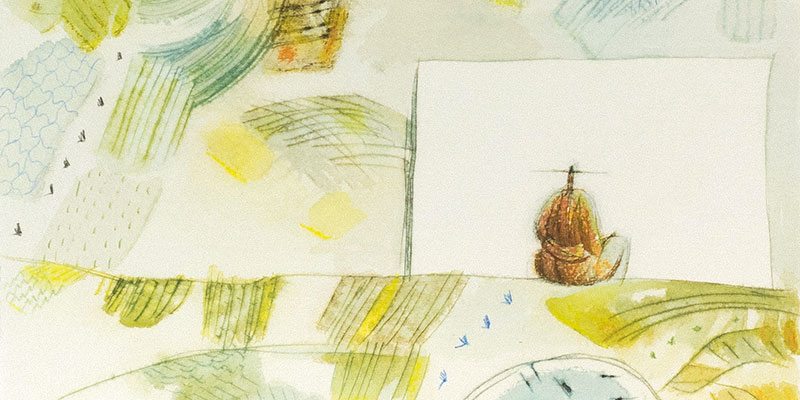 2012 / Cecco Mariniello
Mariniello is one of the most famous illustrators of children's books in Italy, with a huge volume of work in his back catalogue. For Burgo's 2012 calendar Mariniello painted an obsessive series of women reading, all surrounded by or close to water.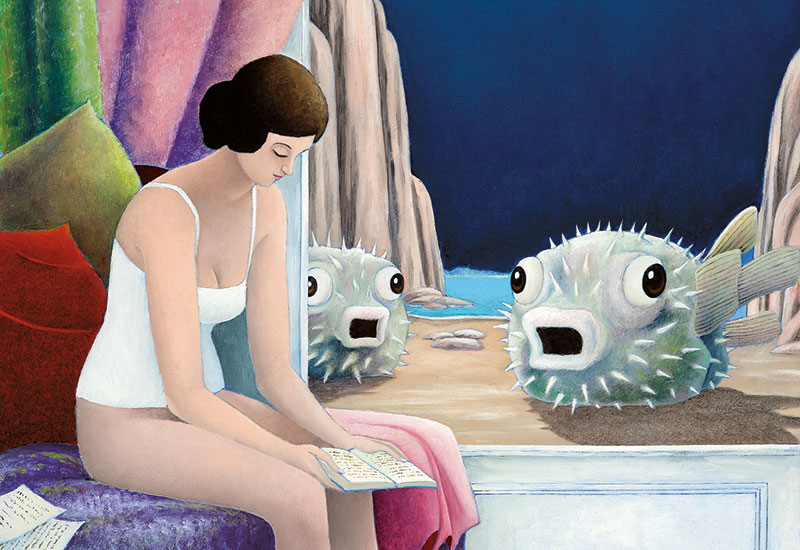 2013 / Fabian Negrin
This Argentinian who moved to Milan is an incredible illustrator of children's books. What he describes as "my magical, surreal paintings" have ended up in a series of exciting editions.
For Burgo's 2013 calendar Negrin painted what Fernando Bandini described as "the images for a book that has not yet been written, a book of the hour that will appear next year." These fantastic, prophetic paintings are varied and imaginative, with Negrin's wonderful technique as their common thread.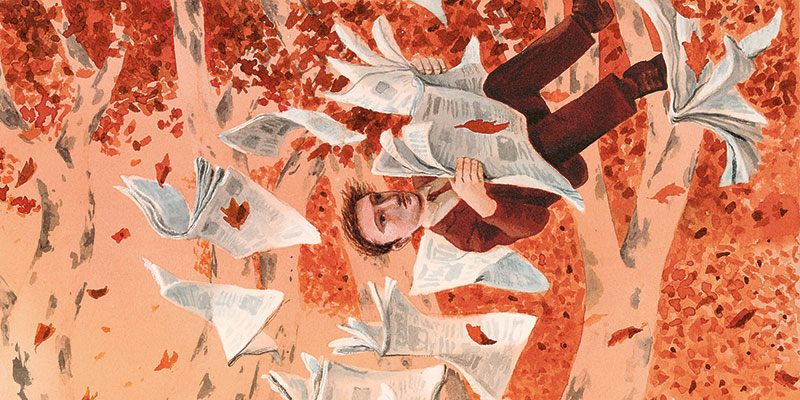 2014 / Alessandro Sanna
The Italian artist Sanna has illustrated more than seventy books for adults and children. The Brainpickings website called his incredible 2013 book, The River, "probably the most breath-taking book released this year," and said that "its soft watercolours shine with the unchanging light of existence."
Sanna deserves similar praise for his work on Burgo's 2014 calendar. Towering champions of colour and small barely defined figures create what Sanna calls "relaxing moments in time". His images are among the most impressive and colourful (and beautiful) of the entire series.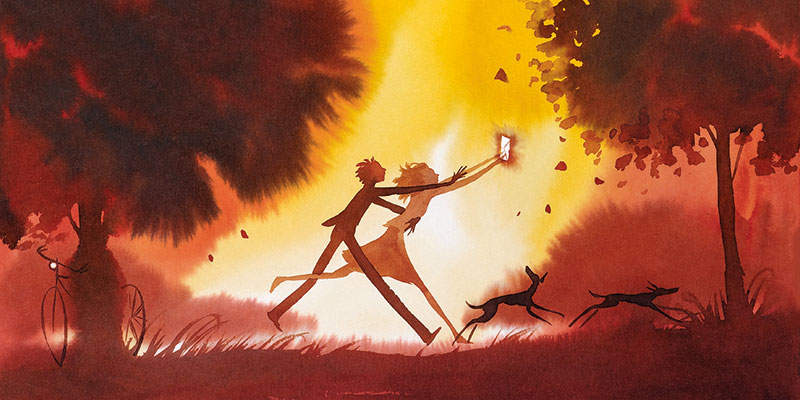 2015 / Luca Caimmi
A review of books for young people, adults and children on Books in Italy stated that "Caimmi's illustrations are magnetic and the reader's attention to them is not easily distracted". The simple, cheeky, childlike images produced by the painter and illustrator Caimmi echo the folkloric qualities of Paul Davis.
For Burgo's 2015 calendar Caimmi employed his skills as a master storyteller. The theme was creation: painting, conducting music, creating a mural. Caimmi describes these works as "images with small actions carefully balanced between stillness and motion". They too are wonderful.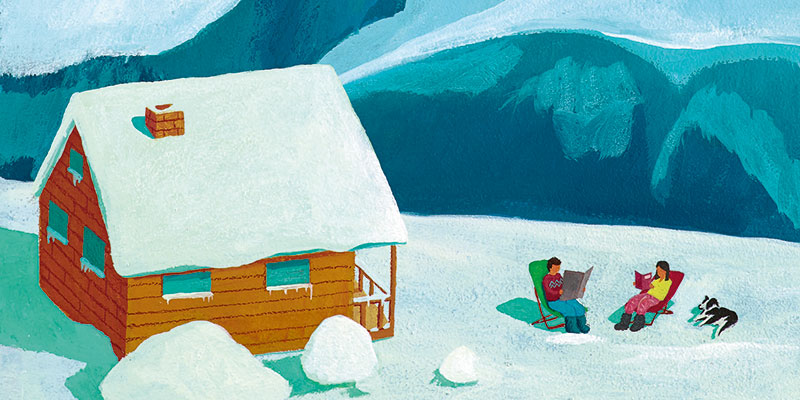 2016 / Shout
Alessandro Gottardo, also known as Shout, the first illustrator to use digital tools for the Burgo calendar, was certainly the first to embrace the aesthetics of modern digital illustration. "I stopped thinking about the style of my images and focused on their message," Shout said in a recent interview with American Illustration. He is a prolific editorial illustrator who has taken on the world of magazines and newspapers with the perceptive brilliance of his conceptual work. "The life you live is the art you will produce," Shout says, and it appears that you are living a fantastic life, since it is fantastic art that you are producing!
For Burgo's 2016 calendar Shout created images that represent the new wave of Italian illustration. His images are calm, minimal, but rich in their depth of meaning and art.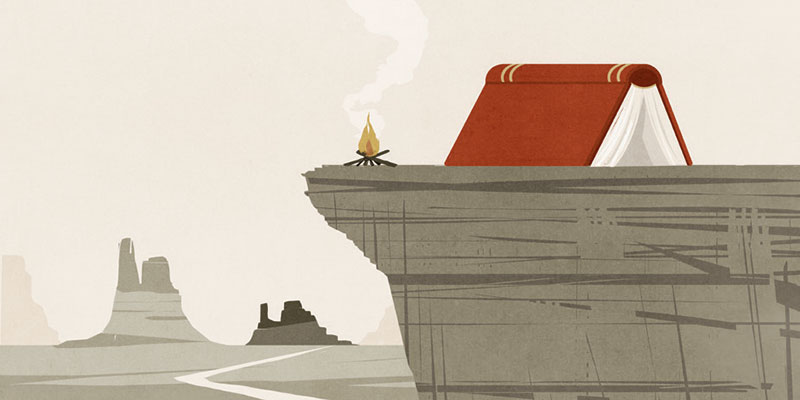 2017 / Ping Zhu
Ping Zhu represents a break with tradition for Burgo. She is the first woman, the first non-European and non-American (her parents come from China), and the first new young artist from the United States. It's Nice That says of her: "Ping manages to encapsulate a real sense of energy and atmosphere in her work". Relatively young and new to this field, she has managed to win editorial assignments from many of the main newspapers and magazines. "For me illustration is a way of communicating, to make the world more connected and cultured," she says, "and it gives colour to the world."
For Burgo's 2017 calendar Ping Zhu painted a beautiful series of bright modern shoreline images, but totally in the tradition of her predecessors.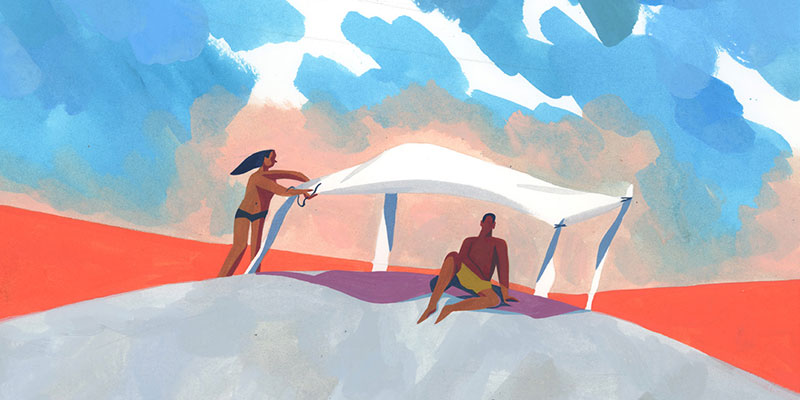 2018 / Noma Bar
Noma Bar (born in 1973) is an Israeli graphic designer, illustrator and artist. His work has appeared in numerous media publications including: Time Out London, BBC, Random House, The Observer and The Economist. Noma Bar's output includes over a hundred magazine covers, more than five hundred and fifty illustrations and he has produced three books dedicated to his work: Guess Who - The Many Faces of Noma Bar in 2008, Negative Space in 2009 and Bittersweet in 2017, a monograph in five volumes, extending to a total of six hundred and eighty pages, published by Thames & Hudson in a limited edition of a thousand copies.
Thanks to the numerous awards obtained in this sector, Noma Bar's work is well known throughout the world. More recently, he won the prestigious Gold Clio with an animation assignment commissioned by New York-Presbyterian Hospital for an awareness raising campaign on new frontiers in cancer care. In addition, D&AD Professional Awards awarded Noma Bar a Yellow Pencil award and his exhibition "Cut It Out", presented at the London Design Festival, was selected as one of the festival's most important events. The project was also nominated for the Designs Of The Year award in the graphic category, organised by London's Design Museum.
For Burgo's 2019 calendar, Noma Bar explores the common paper objects around us, such as a striped notebook or a perforated sheet of paper, and embarks on a journey where a hole in paper turns into a balloon that escapes and flies away, while a line in the notebook becomes the torn thread that allows the balloon to escape.
"I continued to investigate paper in different situations," says the author, "comparing it to its worst enemy, fire, and creating a harmonic, yet impossible, situation in which the shapes of a folded sheet of paper contain the flame itself. Comparing paper with another of its enemies, a document shredder, in this case destruction becomes a positive event, by cutting a "paper road" that duplicates itself, offering alternative directions" so that each of the six images created by Noma Bar encloses others and the observer is free to investigate these paper spaces.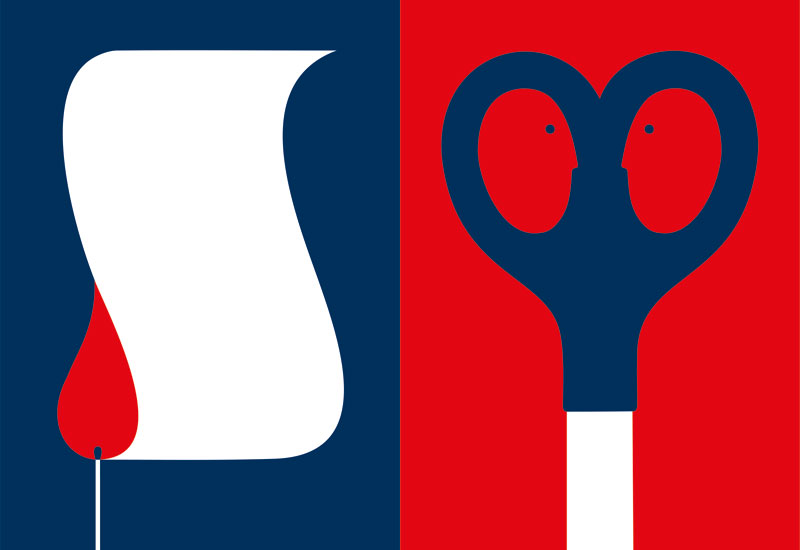 2019 / Emiliano Ponzi
Ponzi is one of the most important contemporary Italian illustrators. He has designed for publishers such as Penguin Books, Feltrinelli and Mondadori, produced illustrations for newspapers and magazines including the New Yorker, the New York Times, Der Spiegel, Le Monde and Repubblica, and worked with the Triennial Design Museum in Milan, as well as for companies such as Louis Vuitton, Bulgari, Gucci Armani, TIM, Pirelli Ferrari and Lavazza. His latest projects also include illustrations for the murals at the Tre Torri station on the Metro's Lilac Line in Milan. Emiliano has received numerous accolades including the Young Guns Award and the coveted Gold Cube from The Art Directors Club of New York.
For Burgo's 2019 calendar Emiliano Ponzi converted to images six scenes from the short story Carta: materia infinita (Paper: never-ending material) written by Gabriella Greison for the Burgo Group, published in full by Burgo on Cartaceo#01 and presented on 18 November at the Milan Triennial on the occasion of the BookCity event. Ponzi chose to use light to depict the characters, their discoveries and their encounters with paper, as he himself explains in the introduction: "The powerful sunset, artificial lighting, decisive sources that generate equally clear shadows. At the end of the story, paper springs to life from the reel, twisting and transforming itself into one of its most noble and common forms, the page of a book.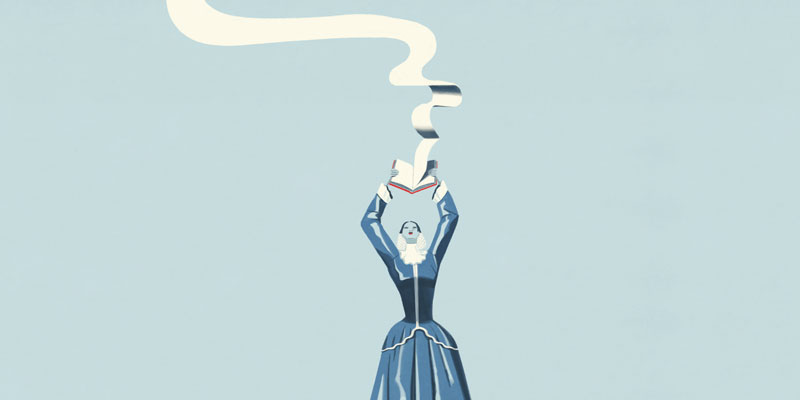 2020 / Manuele Fior
Born in Cesena in 1975. After graduating in Architecture in Venice in 2000, he moved to Berlin, where he worked until 2005 as a comic book artist, illustrator and architect. Today he lives in Paris.
He has published numerous graphic novels and, with his illustrations, works with major newspapers including The New Yorker, Vanity Fair, Internazionale and Rolling Stone.
For Burgo's 2020 calendar Manuele Fior converts into images the verbal acrobatics of the unpublished text Di che risma siamo fatti (What are we made of), written by Alessandro Bergonzoni for the Burgo Group and published in full on Cartaceo#02. A stream of words that celebrates the blank sheet of paper as a desired, awesome tool of inspiration.