Partnerships and initiatives
The Burgo Group's commitment to supporting culture, society and the environment
The Burgo Group is aware of the value of paper as a vehicle for conveying culture and of the impact that the paper industry has on the country in terms of opportunities and external factors. It is therefore committed to supporting initiatives that can make a positive contribution to the development of society and to protection of the environment.
The Burgo Group promotes associations and partnerships with profit and non-profit bodies with which it has shared values and interests.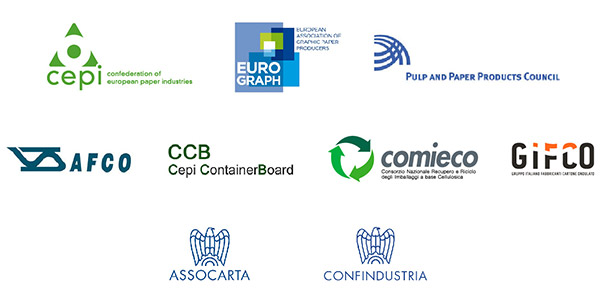 In particular, the Burgo Group has chosen to take an active part in two major European initiatives aimed at promoting the use of printed paper as an effective and sustainable means of communication: Two Sides and Print Power.

Two Sides. Accurate and documented information on the sustainability of paper and print
Two Sides is an international communications project that aims to provide accurate and documented information on the sustainability of paper and print, of which Burgo is a founding member.
Two Sides, with its "Love Paper" campaign, provides information on the environmental value of paper and print, dispelling false perceptions.
Go to page
Launched in 2008 by representatives of the paper communications chain, including forestry companies, pulp and paper manufacturers, paper distributors, ink and chemical additive manufacturers, pre-printing, printing and finishing operators, publishers, paper envelope and packaging manufacturers and postal operators, this initiative aims to promote and communicate the sustainability of the paper communications chain so that public opinion recognises the sustainability of paper communication.
That is why the Two Sides project seeks to dispel common misunderstandings about paper, printing and paper packaging, with the aim of restoring a correct perception.
The paper industry: common assumptions and the reality
When it comes to print and paper sustainability, it is important to distinguish reality from everyday life. The European paper industry is a world leader in sustainable sourcing, renewable energy and recycling rates.
Find out more
The paper supply chain aims to ensure that, in a world of depleted resources, future generations can also benefit from the unique recyclability and renewable characteristics of paper and print.
Two Sides is also actively committed to ensuring that print and paper continue to be a versatile, effective and powerful means of communication and marketing, able to extend the boundaries of the imagination and greater awareness, providing useful services to society, such as the protection of transported goods and personal hygiene.
Print Power. Raising awareness of the value of paper communication as an effective and sustainable means
Print Power is an organisation that aims to promote the use of paper as a means of communication.
By means of data and analysis Print Power demonstrates the value of paper communication even in a multimedia system.
Go to page
Its Executive Board, whose members include qualified marketing and communication experts, is committed to the development of international initiatives aimed at raising awareness of the value of paper communication as an effective and sustainable means and involves all sectors of the supply chain: from producers to distributors, from printers to publishers, as well as postal operators. A wealth of invaluable experience and know-how at the service of communication experts.
Climate neutrality: The Burgo Group shares CEPI's commitment
Europe's transition to climate neutrality by 2050 also places a great deal of responsibility on the paper industry. The Burgo Group's approach is one of full commitment to eco-sustainability.
The Burgo Group shares the commitment adopted by CEPI (Confederation of European Paper Industries), of which it is a member, and promotes a responsible approach to resources, sustainable forest management and the implementation of environmental management systems.
Paper Profile
The Burgo Group has chosen to support Paper Profile, the voluntary international declaration on the environmental impact of paper mill products, designed as a guide for paper buyers.
Paper Profile is a standard international declaration scheme that contains the main and most significant environmental data on an individual product; it relates to general production parameters, product composition and emissions, as well as information on the company's environmental management policy and on the supply of wood and fibrous raw materials.
The Paper Profile of a paper is therefore its "ecological identity card" and is based on parameters shared by the main international producers.
With a view to safeguarding the environment and transparency in communications, the Burgo Group provides its customers with the paper profiles of its products. These can be obtained on request by writing to paperprofile@burgogroup.com.
Burgo supports Bambini Cardiopatici nel Mondo
Bambini Cardiopatici nel Mondo (Cardiopathic Children in the World) is an independent, secular non-profit organisation that consists of more than 150 volunteer surgeons, doctors, nurses and technicians from the most important Italian and foreign heart surgery centres that works in poor and developing countries to increase the life expectancy of children with heart disease.
Set up in Milan in 1993, every month it organises missions of hope in different countries, trains doctors and establishes paediatric heart surgery centres in the most depressed areas, in order to develop the local health system and reduce the infant mortality rate. The Burgo Group has supported and has been closely involved with the association since 2014.
RicicloAperto. The month of paper and cardboard recycling
March is the month of paper and cardboard recycling, a national initiative promoted by Consorzio Comieco to spread awareness of the value of these materials, their life cycle and how they are reused through recycling.
Thanks to RicicloAperto, an event sponsored by the ANCI [National Association of Italian Municipalities] and the Ministry of the Environment and Protection of the Territory and the Sea, paper and cardboard recycling plants open their doors to schools, the general public, institutions and the media so that they can directly observe the various phases of the industrial process and understand what really happens to paper and cardboard once they are transferred to the appropriate sorted waste containers.
Partnership projects with the local community
The Burgo Group also attaches importance to specific projects in partnership with the local communities where its plants are located, and in particular to collaborations with universities, technical institutes, laboratories, workers' associations and initiatives for school children addressing the issues involved in production and processes and their impact on the environment.
These projects include Circonomia, the Festival of the Circular Economy and of energy in the regions, which has been held in Piedmont since 2016 and "guided open factory" days targeting schools.