Trend story
Digital Vs Paper: the advantages of printed paper in publishing and learning
In our increasingly digital world, recent studies confirm the importance of paper materials in education and reading, especially for young generations.
We use technology in almost every aspect of our lives and has changed the way we communicate, work, and learn. Many of these transformations are positive, but recent analyses reported by Two Sides, a partner of the Burgo Group, and on the Love Paper website, Two Sides' global campaign to promote the sustainable characteristics of paper printing and packaging, have found that good old paper can offer benefits and experiences that digital cannot compete with.
These studies have particularly highlighted the importance of printed materials in the learning environment and the preference of younger people for printed books over e-books.
Young people prefer printed books
Why Generation Z Prefers Print Books is the title of the article published on the Love Paper website reporting data collected by Pew Research during a research carried out in the United States and published in 2022. The research shows that Generation Z (the generation born between 1997 and 2015) prefers reading printed books rather than using an e-reader. Similarly, a study carried out by Nielsen BookData between 2021 and 2022 in the U.K. found that printed books are the most popular reading medium among readers aged 13-24, a range that accounts for 80% of purchases.
The reasons given by the interviewees are diverse, ranging from the enjoyment found in reading without digital interruptions to the satisfying tactile nature of paper and less eye strain.
Read the full article:
Digital Vs paper-based materials for learning
Two Sides has published an interesting report titled The Importance of Paper-Based Materials in Education, focusing on the widespread use of digital media in education and its consequences on the learning process.
The report collects data from studies carried out in various countries between 2014 and 2018 and highlights how the growing dependence on digital processes and resources can negatively affect a student's ability to learn and remember information. The research also stresses the impact of digital technology on general well-being and mental health; paper-based learning materials, in addition to providing cognitive benefits, offer also a much-needed break from the digital world.

Read the full article:
The Importance Of Paper-Based Materials In Education
Go to page
While the transition from paper to digital learning materials may now seem inevitable, we should remember that the latter are still in their infancy, with much research still to be done regarding the impact that digital technology may have on us and our lives. Paper, on the other hand, holds a long history as an educational support, since it has been our studying and reading companion for a long time!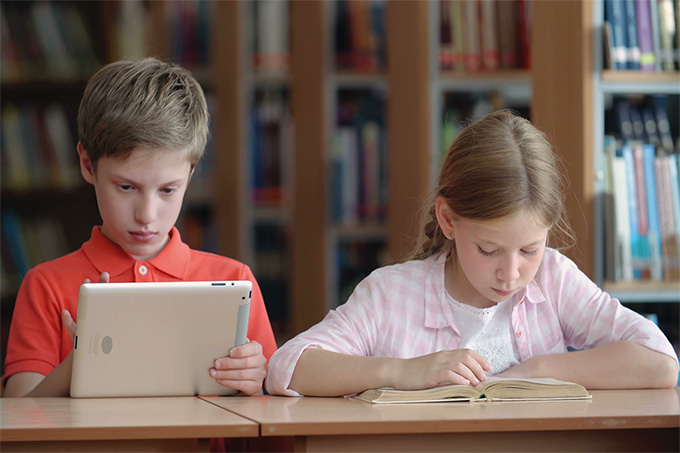 An optimal reading and study experience requires not only quality materials but also foresight and respect for our environment. To meet the needs of publishers and readers alike, Burgo Papers' range of graphic papers for book printing is developed by combining the faithful and long-lasting reproduction of texts and images with the use of raw materials and processes that include sustainability in every phase of life of the book, from printing to recycling.
Burgo Papers for textbooks printing
In Burgo's wide range of graphic papers for educational textbooks publishing, the following categories stand out:
• medium weight coated papers – MWC
• uncoated wood-free papers – UWF
• lightweight coated papers – LWC

Burgo Papers' medium weight coated (MWC) range offers an optimal combination of thickness and lightness. The brilliant colour rendering delivers sharp text and vibrant shades, while strength and durability help maintain the print quality over time.
Burgo's graphic paper catalogue
Discover Burgo Papers products: updated features, accreditations and data sheet.
Find out more
With its "natural" look, Burgo Papers' range of uncoated woodfree (UWF) fine papers is ideal to convey authenticity and wholesomeness in editorial projects. Produced following strict sustainability standards, the uncoated segment of Burgo Papers' production includes PEFC, Ecolabel, and FSC® certified papers.
Graphic papers
Production of coated mechanical and coated woodfree papers, uncoated woodfree papers, laser and inkjet printing papers, thin papers, recycled papers and office papers.
Find out more
Speaking of sustainability: EDUCA is the bulky lightweight coated (LWC) paper specifically developed by Burgo Papers for school and educational publishing, available with PEFC and FSC® certification. EDUCA delivers opacity and bulk for all substances and excellent runnability, to create high-quality educational materials.